AIM Soccer–April 13-June 6–
AIM Soccer Spring Season has been canceled due to COVID-19. We will be back in the Fall of 2020!
We host a Spring and Fall League for kids ages four through fifth grade! The league begins Monday, April 13!
Easter Egg Hunt and Cookout–April 4, 11:00am-1:00pm at River City (4611 Lowe Rd)
THIS EVENT HAS BEEN CANCELED DUE TO COVID-19. We will have a virtual Easter Egg Hunt option. Be watching this page fore more info!
Join all of your neighbors for age divided Easter Egg Hunts from 11:00a-1:00pm. We will have age divided hunts, free lunch at 11:30am, inflatables, games and more! See the schedule for age divided hunts below.
11:00am—Event begins. Do hunts every 15 minutes

11:15—Hunt 1, 2-4 year olds

11:30—Hunt 2, K-2nd grade
11:45—Hunt 3, 3rd-5th grade

12:00ish–"We missed you hunt"–For those that show up late and haven't had a hunt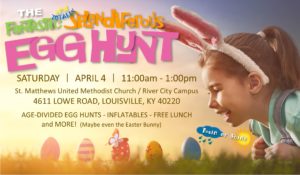 Holy Week at River City–April 5-11
Easter at River City–April 12, 10:45am
Come out and celebrate Easter at River City! We will have worship at 10:45am! Be sure to get a free family photo!
Youth Summer Mission Trip–Atlanta, GA–Metro Atlanta Project–July 14-20
Join middle and high school students from across the country for a week serving in Atlanta, GA. We will be staying at Northside Church in Buckhead and traveling to do home and playground repair. In the evening we will worship with youth groups from all around the country. For more information contact our Youth Minister, Hannah Bryant.
Vacation Bible School–July 20-23, 5:00-7:30pm
Ages three through rising sixth grade are invited for a fun filled week at our St. Matthews Campus (319 Browns Lane, 40207). Activities include a free family dinner at 5:00pm followed by a night filled with songs, games, snacks, Bible Lessons and more! The week will conclude with a celebration on Friday, July 24 where we will have a movie night and camp out (if you want to camp out) at our River City Campus (4611 Lowe Rd, 40220). Please note that parents must camp out with their kids! Registration will be available after April 4.
Community Groups & Bible Studies
River City offers a wide range of on-going community groups and topical Bible studies. Visit our Community Groups

page to find out more! New groups coming in January! Check out our community groups on this website!